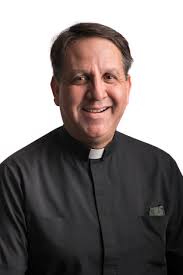 Father Ken Vialpando is a native Utahn, born right here in this sacred and holy town of Tooele, just three blocks away from the present Catholic Church at Tooele Valley Hospital. He was blessed to be able to attend Harris Elementary, Tooele Junior High and Tooele High School, the home of the "Buffaloes."
After graduating from high school in 1979, he enlisted in the United States Marine Corps where he served for three years in the legal office, transcribing the Records of Trial verbatim for the court reporter. In 1982, after being honorably discharged, he entered the seminary where he studied for eight years in three different seminaries, allowing him to graduate with a Masters of Divinity, and to get ordained in 1991. Since then, 26 years later, he has ministered as a Catholic priest for the Diocese of Salt Lake City.
In addition to serving in the Marine Corps, he was commissioned as a Lieutenant with the United States Navy back in 1996 and as a Captain with the Air National Guard in 2006 which gave him an opportunity to minister as a Chaplain to the men and women of the military in both branches.
Today, Father Ken is most grateful to be back home where he gets to minister as the pastor of Saint Marguerite Catholic Church!